​
Greeks:



Prodromos:
Bonus Multiplier vs Siege Units increased to x1.25 (baseline), from 1.00
> Balance Team's Comment: One of the Greek civilization's biggest weaknesses is its immobility. This allows Battering Rams to be used to great effect against them. Since most of the Greek army's DPS comes from Pierce-type damage, we feel like...​
​
Greeks:



Peltast:
Attack Range increased to 17, from 14.
> Balance Team's Comment: Anti-Ranged Ranged units in Age III don't see as much play as we would like. We believe one major reason for this is that these units simply don't have enough Attack Range to be able to safely hit the enemy Ranged units without being torn to shreds by the opposing front line. We...​
​
Greeks:



Priest:
Can now heal single units in-combat, and prefers healing friendly units over converting enemy units. Healing rate reduced to 25, from 40
> Balance Team's Comment: Single-Target converting Priests are one of the least utilized units in PvP mode right now. We are trying to change the utility of these Priests by allowing them to heal single units in-combat to reward good mechanics and micro. We will keep an eye on this change to see how it impacts gameplay and go from there.​

[Tech] Divine Vision:
Upgrade Cost reduced to 600 Gold, from 800 Gold
> Balance Team's Comment: We feel like quite a few of the lategame Champion Upgrades don't see much use because they are too expensive for what they offer. This change aims to address this issue.​
.
.
.
Hello there everyone! With the Halloween Event, I am happy to bring you a limited edition piece of gear, Zahhak's Sword of the Undying! Find out all you need to know about how to get one for yourself in the attached infographic!
​
Good luck and happy hunting everyone, let us know what you think about the Sword below!
​
Greeks:



--


--------------------
Egyptians:


Elephant Archer
:
Attack Speed increased by 200%, Attack Damage reduced by 50% (overall DPS increased to 75, from 50.) Splash Damage removed, from 1. Now cannot miss its target and is 100% accurate.
> Balance Team's Comment: Egypt has a lot of AoE damage in its arsenal by...​
New Features:
Enhanced Crete information in game.
Skirmish "Champion Mode" add (not available in coop).
Halloween Event [2018]:

The Halloween event will start the 23 October and end the 6 November (will maybe be extended for a week).
During all the duration of the event you will win some "Halloween Points" when you collect guarded camp, try to collect more than the others to win...
​

Greeks:

--


--------------------
Egyptians:



--

​
--------------------
Persians:
Immortal
:
Hitpoints reduced to 280, from 300. Pierce Armor removed, from 0.20
> Balance Team's Comment: Immortals are seeing more use in early Age III than...​
New Features:
Enhanced Sparta PvP information in game.
Ranking for 2v2 Sparta is now working (season reward for 2v2 Sparta have been enabled).
Discord rich presence.
Enhancements:
Arena champion mode checked as default.
Some gear have been renamed:
Divine Wall Joints -> Wall Joints of Persepolis

Divine Vest of Foresight -> Amunet's Vest of Foresight...
​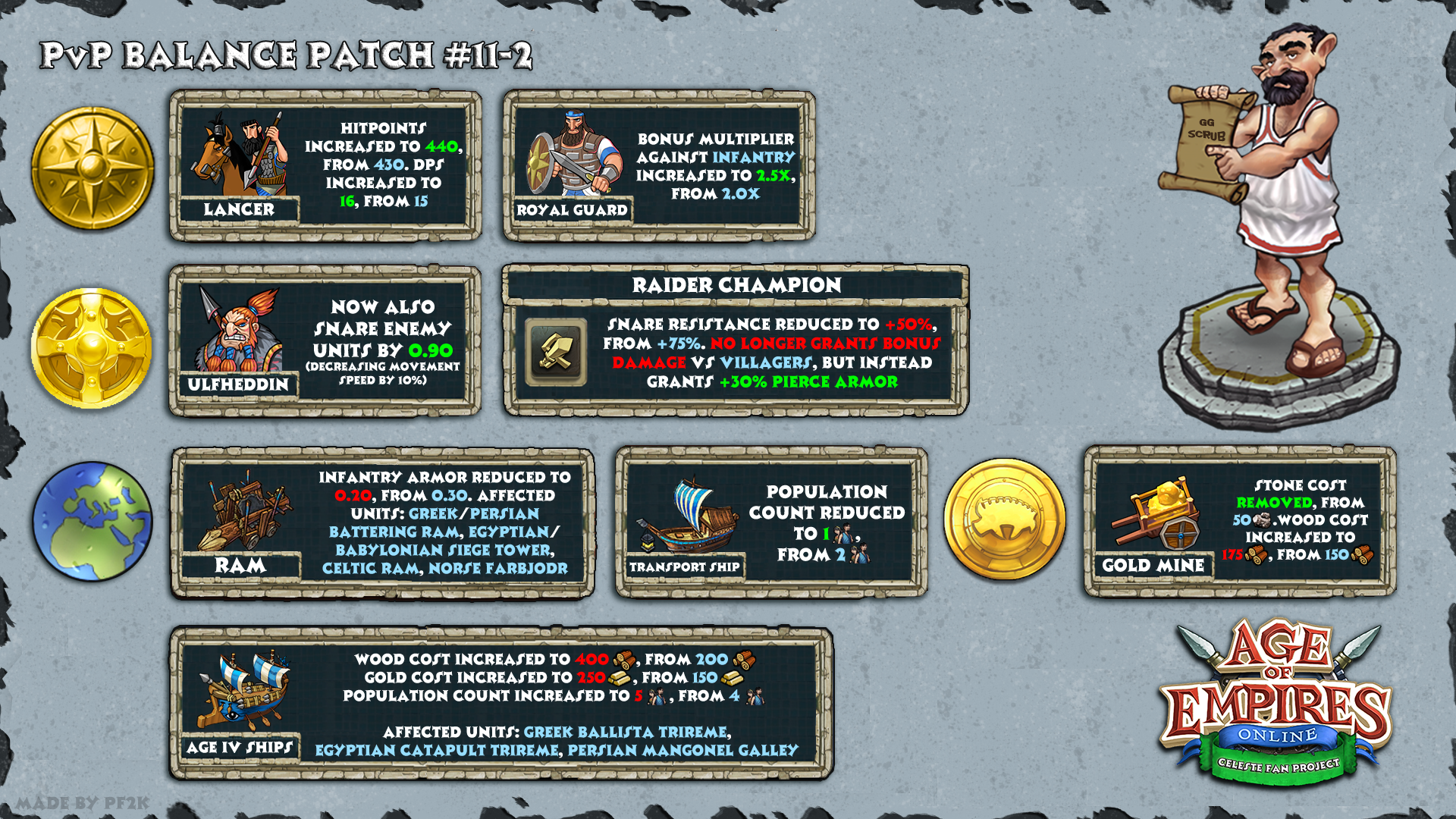 ​
Greeks:



Ballista Trireme
:
Cost increased to 400w/250g, from 200w/150g. Population count increased to 5, from 4.
> Balance Team's Comment: Siege Ships are one of the most powerful tools available to 3 of the 6 civilizations in the game, providing significant amounts of pressure on enemy structures from a very safe distance. We felt that this...​
New Features:
"Sparta Happy Hour" : Every day at 5AM UTC and 5PM UTC Sparta rewards are increased for one hour.